Send Inquiry
Commercial Compressed Air Dryer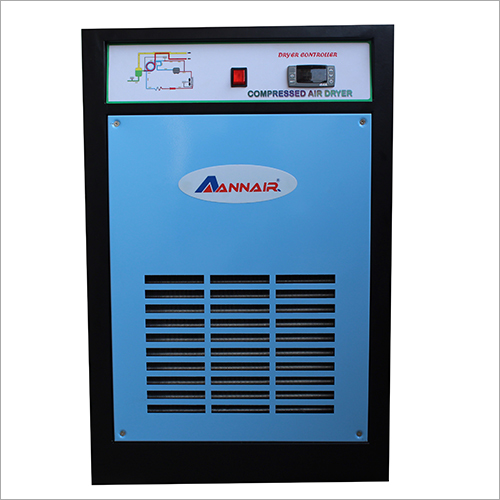 Product Details:
Supply Ability :

10 Piece Per Week
Trade Information
10 Piece Per Week

2-10 Days
Product Description
Saturated compressed air enters to Air to Air heat exchanger, where it is pre-cooled by out going cold dry air. Highly effective Pre- cooler reduces the temperature considerably, and enables to use smaller & economical refrigeration system. Then the pre-cooled, relatively low temperature compressed air enters to Air to Refrigerant heat exchanger, where it is cooled down to +3C (Pressure Dew Point). At this temperature, moisture in vapour form condensed to liquid form, and separated from the compressed air by moisture separator and discharged to drain port through automatic drain valve. The cold dry compressed air passes back to Air to Air Heat exchanger, and gain temperature by exchanging heat with incoming warm air. The dry air coming out from the dryer is ready to use for instrument and process air applications.
Commercial Compressed Air Dryer is one of the essential parts of any compressed air system. The performance and efficacy of the compressed air system is enhanced using high-tech dryers that provide proper functioning required in the process.

Single-tower, deliquescent dryer uses less energy to offer pressure dew point suppression up to 50F. The estimated power requirement is around 0.2 kW/100 cfm.

Refrigerant-type dryer is one of the most common dryers widely used to attain the pressure dew point up to 39F. It can easily to provide cycle on and off based performance on air flow that saves power and energy. Around 0.79 kW/100 cfm power is needed.

Twin-tower, desiccant-type dryers are designed to remove the moisture from the air at a pressure dew point of 40F. In pressure-swing regenerative dryer, the purge air id needed from 10 to 18 % of the dryers rating.

Heat-of-compression dryers use the heat generated in the process of compression to achieve desiccant regeneration.

Membrane-type dryers are available without moving parts to attain dew points of 40F. They are available with a range of advantages from low installation cost to heavy-duty design that make them perfect to be used outdoors. In addition to this, they can also be used in hazardous atmospheres. The total power requirement of these dryers is 3 to 4 kW/100 cfm.

How To Select a Dryer?

Commercial Compressed Air Dryer should be selected on the basis of essential pressure dew point as well as cost of operation. When less than 35F pressure dew point is necessary, a refrigerant-type dryer cannot be used. The pressure drop of 3 to 5 psi is attained through a Commercial Compressed Air Dryer and must be taken into account in the arrangement requirements.

Efficiency of Dryer Part Load:

Load efficiency of air dryer is one of the important factors to onside while assessing its performance. It is subject to part loaded circumstances where the flow, temperature and pressure are lower than the rated moisture loading. Some dryers convert their energy consumption and save on operating costs. On the other hand, some determines the turn down of a refrigerated dryer.

Salient Features:
CFE free, Eco-friendly refrigerant
Two stage effective moisture seperation
Lower power consumption
Built with necessary protectors for electrical & refrigerant system
Most modern refrigerant system components and pressure switches
Compact design, requires less floor space
Working pressure up to 40 kg/cm
SPECIFICATION
| | | | | | | |
| --- | --- | --- | --- | --- | --- | --- |
| Inlet pressure (kg/cm) | 20 | 25 | 30 | 35 | 40 | |
| Correction factor (K1) | 0.87 | 0.94 | 1 | 1.05 | 1.09 | |
| Ambient temperature (C) | 25 | 30 | 35 | 40 | 45 | 50 |
| Correction factor (K2) | 1.20 | 1.10 | 1.05 | 1.00 | 0.9 | 0.95 |
| Inlet temperature (C) | 30 | 35 | 40 | 45 | 50 | 55 |
| Correction factor (K3) | 1.20 | 1.15 | 1.07 | 1.00 | 0.88 | 0.75 |
TECHNICAL SPECIFICATION
Model no.
APSR 25
APSR 45
APSR 60
APSR 80
APSR 100
APSR 150
APSR 200
APSR 250
APSR 300
APSR 400
Capacity CFM
25
45
60
80
100
150
200
250
300
400
Working Pressure kg/cm
40
40
40
40
40
40
40
40
40
40
Connections BSP (F)
''
''
''
1''
1
1''
1''
1''
2''
2''
Refrigerant
R 134a
R 134a
R 134a
R 134a
R 134a
R 134a
R 134a
R 134a
R 134a
R 134a
Power supply V/Ph
220/1
220/1
220/1
220/1
220/1
220/1
220/1
220/1
220/1
220/1
Condensor Type
Air
Air
Air
Air
Air
Air
Air
Air
Air
Air
Nominal Power Consumption (kw)
0.21
0.21
0.39
0.39
0.66
0.66
1.02
1.4
1.4
1.78
Dimensions (mm)
Length L
400
400
400
500
500
650
650
650
750
750
Depth D
550
550
550
550
550
700
700
700
900
900
Height H
580
580
580
700
700
1000
1000
1000
1150
1150
Approx. Weight (kgs.)
40
42
46
65
70
90
100
110
130
145
Enter Buying Requirement Details
Other Products in 'Air Dryer' category